Irlen Ambassadors Team
Irlen Ambassadors is a non profit group, working with the North Valley Community Foundation.
Irlen Ambassadors are passionate about Irlen and dedicated to spreading Irlen awareness, and also raising funds to help pay lab fees for low income clients.
Apply for awards from Liz Barker chairperson 345-0874, and Georgia Simmons treasurer 592-3399 .
Or send your donation to North Valley Community Foundation, attention Irlen Charitable Trust Fund. 240 Main St #260 Chico CA 95928
Last year we raised enough money for 14 scholarships.
Current fundraising involves several events.
1. Readathons.
In Springtime we can come and help set up a school readathon at your school. All money earned will give scholarships to children from the participating school
The Readathon involves 2 half hour assemblies and most of the reading is done at home. We can give your school a complete package, with ideas and all needed forms, to help you with this. Last spring we worked with a small charter school, and in two weeks raised enough money to put 6 more students in glasses.
2 Bargains and Breakfast
A Springtime multi family yard sale with full breakfast offerings including tamales, goodies coffee and lemonade.
3.Annie B's
In Summertime/ August September, we join the North Valley Community Foundation/NVCF, for a fundraising drive called the Annie B's . All money donated during this time gains bonus money from the NVCF .

4 Ride Roll & Read
In Fall we have our family fundraiser in the park, Roll Ride and Spin.
Gain us both awareness and earning needed funds
This is a joyful event for the whole family. A colorful ride for a colorful cause.
Saturday Oct. 24 2015 Bidwell Park 1 Mile picnic area, Oak Grove, Chico.
Registration open 7:30 am. Ride begins at 8:30 am
5K or 1K .
Dress in purple, Decorate your wheels. Bicycles, scooters, skates, wheelchairs, strollers etc. wear a helmet and bring refillable water bottles.
There will also be fun family friendly booths and activities including food and a silent auction.
1-5 Free
6-17yrs: $10
18-up: $20
Family rate $50.00
All profits go to fund awards for lab fees for Irlen lenses for low income adults and children .
They can change lives, as they help with; learning problems, Dyslexia, ADD/HD, Headaches , Migraines & brain injuries.
They are a non-invasive, drug free
solution.
We often have booths at local events and festivals spreading awarenss as much as we can.
Contact:
345-0874 Liz Barker Irlen Ambassador President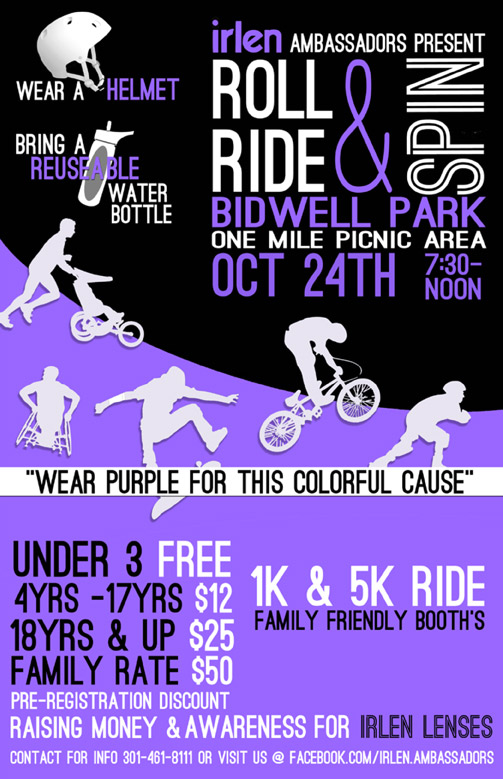 North Valley Irlen Ambassadors Team
Phone/fax 530-891-4783
The Irlen method is a non-invasive, drug free technology that uses colored overlays and spectral filters worn as glasses, to improve the brain's ability to process visual information, relieve chronic learning difficulties, relieve visual stress, and chronic migraines/headaches. Many students and adults find relief with this method
Although this method is used in 47 countries there are still many schools and associations unaware of the potential for help for their students or clients. Irlen ambassadors are dedicated to spreading awareness of this syndrome that affects one in five people, and raising funds to help individuals pay for costs of lab fees for glasses.
Ways in which you, your school, or group can spread awareness and help your staff and students to read with ease, comfort, fluency and comprehension.
Train to be an Irlen screener, or send a member of your staff or group to train. This will allow many of your students to be screened for overlays.
Ask a local screener or diagnostician for a presentation on Irlen at your school.
Take part in the Dr. Seuss Readathon in March. Each school involved who raise $200, allows a child in their school to have a scholarship to pay the lab fees. Wildflower Charter school, Chico easily raised enough for 7 students to receive scholarships. We have a Readathon kit to make it easy.
Have a screener visit your school and screen struggling students for overlays.
Come and be screened yourself.
Have your child screened at school.
Post a picture and /or story of your or your child's improvement and successes on Irlen Visions Facebook to increase awareness. Or follow us on Facebook
Join us at North Valley Irlen Ambassadors and help to plan.
Take part in Ride, Roll & Read, fall fundraiser as a volunteer or a rider. Dress in purple and ride your decorated bike. Pass information on Facebook or Emails to friends and colleagues so they are aware of possibilities and join us to ride.
Sunday October 16, 2016
Make a donation to North Valley Community Foundation, for Irlen Ambassadors charitable fund. nvcf@nvcf.org
We will be following up with a phone call to ascertain your interest.
Have a colorful day. North Valley Irlen Ambassadors Team.