Irlen® Self Tests
Take the self tests and then call an Irlen® Diagnostician or Screener to make an appointment if you have any symptoms.
Take self test
Here are some other helpful tests from irlen.com:
Find a Local Screener
There are more than 7000 screeners in the USA. Find a screener that I have trained and would like to see private clients.
I have trained many other screeners who work in schools and other educational organizations, who screen students only within their work environment.
FIND SCREENERS
Screener Training
Want to become an Irlen® screener? Susan now offers many screener trainings on Zoom. In the last 3 years she has trained many screeners in 25 different states, plus Canada.
Don't let your students fall through the cracks. This could be one of the most useful classes you have ever taken to help your struggling students.
VIEW DETAILS
See Sample Distortions
See The Difference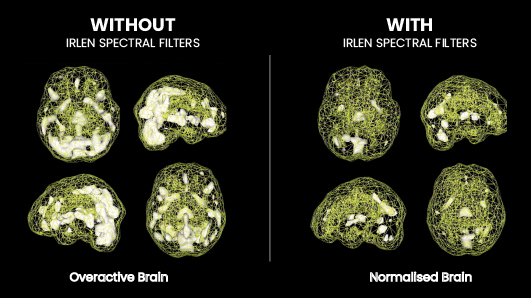 LEARN MORE
What is Irlen® Syndrome?
Irlen® Syndrome ( Scotopic Sensitivity) (SSS) is a perceptual problem that prevents an estimated 12–15% of the population from being able to learn, read, or study efficiently. Many of the perceptual problems have baffled educators and the scientific community because they remain undetected by the standard educational, visual and medical tests.
© Helen Irlen, https://irlen.com
READ MORE
What Our Clients Say
I have to say that I love these glasses so much! I see so much difference in my productivity when working because the words never move around on me anymore when reading anything! I think the biggest change though comes from my perception of depth. As I drive to work, I can see how different the shapes of the trees are from further away, and the length of the road is no longer as two dimensional as I was perceiving it to be. My coordination is also slightly better and I'm a lot happier these days. I also don't have as many headaches and can work longer than before. It's amazing being able to see the world in the sunshine.
-Zuri
My new glasses have given me my life back!! The world was much too bright for me. I was getting migraines from the sun, the light, the tv, reading. Very sad. Then I was researching and came across a website that talked about the Irlen® Syndrome. I figured I definitely had it. And Susan confirmed it. My world is now vivid and beautiful and I can play outside with my friends, family and grandchildren. I can read!! And, I can be on a computer now, which will allow me to finally be able to start school and get back to work. I have tears writing this because of my world opening up to so many things now. Thank you!!
-Lisa