Testing for Irlen® Syndrome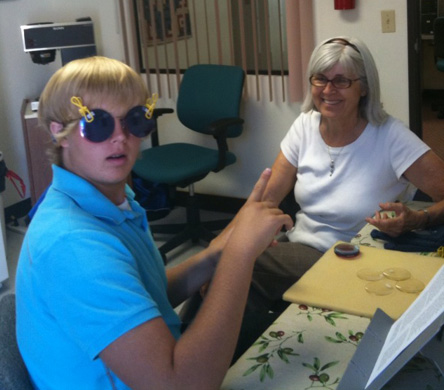 The Irlen® method consists of two separate testing sessions.
The first testing session is called a screening. Both certified Irlen® Screeners and Diagnosticians can screen.
After the screening you will know if you have the syndrome, how severe you are, and what distortions you have. Then you will see if colored overlays over the page will help to treat and alleviate your problems . This takes 1-2 hours .
The second testing session can only be carried out by a Certified Irlen® Diagnostician.
This precision testing determines the personal color of spectral filters which can be worn as glasses or contact lenses.
Working carefully, the diagnostician will find the correct color to tint your personal spectral filters. The color is often different than the overlays as it is transmitted light instead of reflected light. The process takes about 2-4 more hours.

For the second test You will need to bring:
* Frames
copy of screening from screener.
* Prescription CR 39 plastic lenses with no coatings or tinting if needed
* Children under 18 need industrail strength CR 39.
* A copy of your prescription with pupillary distance
* ID form for correct lenses . Eye doctor should sign this.
* No prescription needed , you will need to buy Plano lenses from Irlen®
* Optional, single vision prescription lenses can be bought from the Irlen® lab
* Rimless or partial rimless frames send lenses only
* Oversized or curved lenses $50.00 more