Find a Screener Near You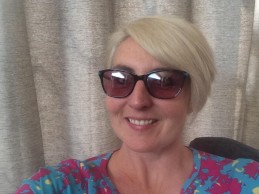 There are more than 7000 screeners in the USA. This is only a listing of some those I have trained in areas near me..
If you are looking for screeners in other areas, please refer to the web site of Irlen Institute www.irlen.com or contact a diagnostician in the needed area.
I am listing only those screeners I have trained who would like to see private clients.
They are in Southern Oregon, Northern Nevada, and Northern California.
If you are a screener and live in another area or have moved further afield, then get in contact with the diagnostician closest to you. the list is on the www.irlen.com website.
I have trained many other screeners who work in schools and other educational organizations, who screen students only within their work environment.
Hannah Shickle
Mt Shasta, California
Email: shickle@sisqtel.net
Phone: 530-643-0373
Elizabeth Kilmer
Humboldt County
Fortuna and Ferndale, California
Email: ekilmer12@gmail.com>
Phone: 707-407-5741
Della Nicola
2292 Ceanothus Ave
Chico, California 95926
Phone: 530-624-6442
Suzanne Roberts
1550 Springfield Drive. Apt 27
Chico, California 95928
Email: suzannemroberts@sbcglobal.net
Phone: 530-899-3916
Carol Bushard
Chico, California
Phone: 530-345-8805
Susan Hughes, Irlen diagnostician/screener/Irlen trainer
Irlen Visions
Chico, California 95926
Email: shughes5@earthlink.net
Phone: Ph/Fax530-891-4783
Fax: 530-891-4783
Linda Kloth
Irlen screener
Seaside, California
Email: linda.kloth@yahoo.com.
Julie Hertzig
Sacramento, California
Phone: 916-799-7980
Glenda Custard
7900 South Shingle Rd
Shingle Springs, California 95682
Email: gcustard@latrobe.k12.ca.us  
Phone: (530) 677-0260
Chrys Wimer, certified Irlen screener
Credentialed Elementary Teacher for over 20 years I have been wearing filters since 2008 and have had great results.
Clovis, California
Email: irlenclovis@live.com
Phone: 559-930-3036
Monica McDaniel
Hearthstone school
Chico, California
Email: mmcdaniel@bcoe.org
Phone: 530.604.9508
Rita Eissmann
Irlen screenings of Reno
Washoe County, Nevada
Email: reissmann@aol.com
Phone: 775-745-0402
Faith Charles
Special Education ISGI, Irlen Colors of Fresno
Fresno, California 93730
Email: faithchar2@gmail.com
Phone: 559-970-0008.
Silvia Grassetti-Kruglikov
Certified Irlen Screener /school psychologist
San Francisco Bay area, California
Phone: 650 868-2201
Kier Pon
Educational Therapist
San Jose, California
Email: kponacademics@gmail.com
Phone: 408-761-1539
Rita Eissmann,
Irlen Screenings of Reno
Reno, Nevada
Email: REissmann@aol.com
Phone: 775-745-0402
Carol Wertz
Redding, California
Email: carolbwertz@gmail.com
Phone: 530-221-7250.
Mharia Ross-Walcott Teacher/Educator
Hearthstone School
Oroville,, California
Email: mwalcott@bcoe.org
Phone: (530)532-5848 X162
Linda Melson
Stockton, California 95204
Email: lindamelson@gmail.com
Phone: 209-482-4915/leave a message
Martha Rickaby
Gridley/ Butte county, California
Email: 1960grammie@gmail.com
Phone: 530-797-2040 530-300-1771
Molly Greenwood
Redding, California
Email: butterstix@hotmail.com
Phone: 805.801.2126 or 530. 638. 35
Natalie Powell, ET Educational Therapist
Engaging and Positive Brain-Based Coaching
Walnut Creek, California
Email: natalielptherapy@gmail.com
Phone: 925-360-0958
Fax: www.natalielptherapy.com
Charlotte Cage
Marriage and Family Counseling
Reno, Nevada 89503
Phone: 775-338-3232
Heather Felciano
Corning, California 96021
Email: hfelcian@tehamaed.org
Phone: 530-824-8445
Cristan Norman
Redding, California
Email: cnorman@oakrunschool.org
Phone: 530-941-5109
Dr. Carol Wertz Associate Professor
Director of Student teaching Simpson University
Redding, California
Email: carolwertz@yahoo.com
Phone: 530-226-4195 530-221-7250
Kier Pon
Educational therapist
Campbell, California
Email: kponacademics@gmail.com
Phone: 408-761-1539
Kier Pon
Educational therapist
Saratoga, California
Email: kponacademics@gmail.com
Phone: 408-761-1539
Lourdes Marie Hernandez
Fairfield, California
Email: lourdesmarie2@gmail.com
Phone: 707-330-4868
Kier Pon
Educational therapist
Los Gatos, California
Email: kponacademics@gmail.com
Phone: 408-761-1539
Hannah Shickle
Redding, California
Email: shickle@sisqtel.net
Phone: 530-643-0373
Robin Adams, Solano Skills Center
Fairfield, California www.digital-lit
Email: admin@digital-literacy.rocks
Phone: (707) 430-0120
Shae Lompa, Irlen screener
Reno, Nevada 89523
Email: Lcranch36@yahoo.com
Phone: 775-787-3240
Jewel Cardinet
Chico, California 95928
Email: mandojulo@yahoo.com jcardine@chicousd.org
Phone: 530-342-8824
Kathryn McComie
Sacramento, California 95818
Email: kmcomie@comcast.net
Phone: 916-452-9210
Brooke Finley, Certified Irlen Screener
Barton Reading and Spelling Tutor
San Jose/Modesto, California www.facebook.c
Email: brookefinleylearningcenter@gmail.com
Phone: 209-495-6670
Sarah-Maye Miller, M.S. CCC-SLP
Speech-Language Pathologist Certified Irlen Screener
Santa Rosa, California 95405
Email: ssmyleee562@yahoo.com
Phone: (707) 545-1771 x4706
Inga Moses reading instructor
Monterey, California
Email: inga.moses@outlook.com
Phone: (831) 334-1540
Beverly Brothers
Spring Creek, near Elko, Nevada 89815
Email: bevbrothers@peoplepc.com
Alexandra Gass
Valley Dyslexia Services
Manteca, California
Email: agasshouse@hotmail.com
Phone: 209-679-0824
Denise Clark
Valley Dyslexia Services
Manteca, California
Email: cen10ialclark@comcast.net
Phone: 720-334-0341
Linda Kloth
Irlen screener
Monterey, California
Email: linda.kloth@yahoo.com
Patricia Light
Butte County
Paradise, California
Email: lightway1000@gmail.com
Phone: 530-488-9622
Lynn Daniel-Ceja, Elementary Teacher
Calaveras and Amador Counties, California
Email: ldanielceja@calaveras.k12.ca.us
Mary Tuato'o Irlen screener
Oroville, California
Email: marytuatookopping@icloud.com
Phone: 530-321-0909
Donna Lifrak, Senior screener
Mill Valley, California
Email: donnalifrak@googlemail.com
Phone: 415-377-1676
Kelly Cullen D.C.
Folsom, California
Email: Cullen.kellyann@gmail.com
Phone: 916796-9986
Debra Nickerson
www.brighterhorizonslearning.com
Grants Pass, Oregon
Email: IrlenscreeningOR@gmail.com
Phone: 541-890-9818
Dawn George, tutor student coordinator
Glenn County Literacy Project
Orland, California
Email: dgeorge@glenncoe.org
Phone: 530-934-6906, 865-1683 #3552
Dawn George, tutor, Student Coordinator
Glenn County Literacy Project 201 N Lassen St.
Willows, California
Email: dgeorge@glennncoe.org
Phone: 530-934-6906, 865-1683 #3552
Ruth Campbell
Santa Cruz, California
Email: organize@cruzio.com
Phone: 831.475.8521
Hannah Shickle
Ashland, Oregon
Email: shickle@sisqtel.net
Phone: 530-643-0373
Barbara Suit
"I Get It!" Tutoring Services
Saratoga, California
Email: barbarak.suit@gmail.com
Phone: (408)621-1630
Lynn Street
Brentwood and Antioch, California
Email: hurdlesdyslexiaclinic@yahoo.com
Lynn Street
Tracy San Ramon, California
Email: hurdlesdyslexiaclinic@yahoo.com
Adrienne Bridges
Sacramento, CA
Email: Diakonia5@gmail.com
Phone: 916-613-5805
Krista Grieb
Brentwood and Antioch, California
Email: kgrieb@my.wgu.edu
Phone: 925 634 8224
Wanda Boomgaarden
Sacramento / Rancho Cordova, California 95742
Email: w_boomgaarden@hotmail.com
Phone: 916-704-4806
Esther Romero, dyslexia screener, tutor, speaker
Rancho Cordova, California
Email: esther.dyslexialady@gmail.com
Phone: 916-542-5508
Karen Stevens
Livermore, California
Email: kchstevens@gmail.com
Phone: (925) 876-3589
Jaimie B. Wilson MA Educator/certified Irlen screener
Valley Springs, California 95252
Email: jbenfant@gmail.com
Phone: 209-772-1849 or 406-871-9403
Brenda Murray
Susanville, California 96130
Email: brendamurray757@gmail.com
Phone: Tel. 530-249-4403
PĂ©tra Hawes-Glenesk, M.A., ACC, CPRC, BCB-HRV
Integrative Health, Performance and Recovery Coach
Sacramento and surround, California Neurofeedback |
Email: petra@hrvb.coach
Phone: 916.870.0846
Fax: http://WWW.HRVB.COACH website
Zoe Davis, MA, LMHC, MS, CNC
Amen Clinic Clinical Nutrition, Integrative Brain Health Coaching & Certified Irlen Screener
Walnut Creek, California 94598
Email: zdavis@amenclinic.com
Phone: 650.416.7830
Fax: 650.871.8874